Description
BodiCool Wave Full Coverage Teardrop breast prosthesis, Style 496 made by Trulife is a lightweight silicone breast form. It is made with Soft TruCool Gel, which flushes well on the chest wall, providing maximum contact and it delivers advanced cooling effect while the Wave technology promotes air circulation between the chest and breast prosthesis for maximum comfort, even on a hot day. Teardrop shape breast form, is recommended for women who have mastectomy with lots of tissues missing from lateral chest wall, so the pointed tip can be positioned to compensate for lost tissues.
BodiCool wave breast prosthesis is constructed with TruLife's TruCool Gel for a lifelike feel look.
The TruCool Gel on the posterior concave surface delivers an advanced cooling effect while the wave promotes air circulation between the chest wall and breast form.
Details:
Lightweight silicone and silky-soft skin for additional comfort
Helps reduce temperature around the chest wall by several degrees
Cooling properties regenerate themselves once the breast form is removed from the chest wall
Each breast form includes a removable COOLMAX® breast form cover.
Size: 1-14
Fit: Shallow to Average profile.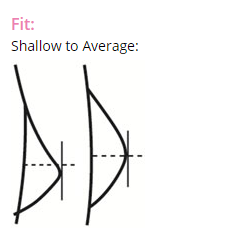 View All
Close