Description
Style 475 Silk A Supreme is Trulife premium lightweight soft asymmetrical silicone breast form designed, shaped to restore balance and symmetry to a shallow to average profile woman after mastectromy breast surgery.
Breast cancer does not have to bring an end to a woman's bust shape, that is why this asymmetrical breast form fills under the arm where more breast tissues or pectorial muscle is removed due to metastatic breast cancer.
The pointed tail is turned towards the side where breast volume is lacking the most.
Asymmetrical breast forms fit either right or left side of the chest.
Details:
Asymmetrical shape replaces tissue at upper chest and underarm

Concave back accommodates excess tissue

35% lighter than traditional silicone breast forms

Features a silky-soft, matte skin for superb feel

Removable cotton breast form cover included
Size: 1 - 14
Color: Beige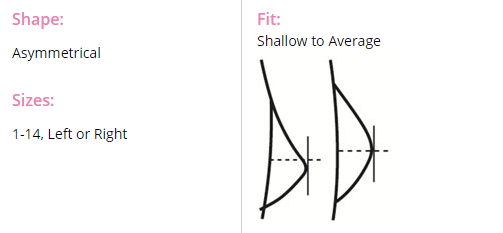 View All
Close